Seasonal Greeting Cards
A number of years ago we produced and mailed out a series of seasonal greeting cards that featured artwork of Stefan Leonard Kostelnicek. His color renderings were originally printed on 4.2 x 5.8 inch post cards and published in Bratislava, Czechoslovakai circa 1921 and 1948.
Reproductions of Stefan's artworks were affixed to cardstock with tacky adhesive so that they could be removed and framed separately. Shown below are unfolded views of the inside of those greeting cards. They were scanned at 100 dpi.
Christmas 1996
artwork circa 1921
Seasons Greetings 1997
artwork circa 1948
New Year 1997
artwork circa 1921
Easter 1997
artwork circa 1921
Art Postcards of S. F. Kostelnicek
More of Stefan's artworks can be viewed at this Slovak website.
Four art postcards honoring Milan Rastislav Stefanik born July 21, 1880 in Kosariska - died May 4, 1919 in Ivanka pri Dunaji. He was a Slovak patriot, politician, diplomat, and astronomer.
Commemorating the 1100 anniversary of the Moravian Empire, 833 - 1933. Production of hese cards coincide with the 1933 Chicago World's Fair. S. F. Kostelnicek visited Chicago at that time.
11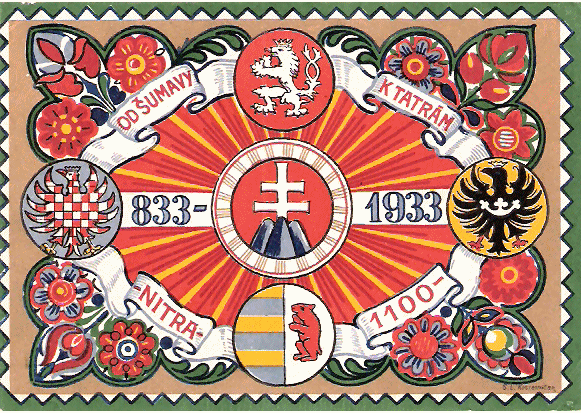 Additional art postcards by S. F. Kostelnicek.
| | |
| --- | --- |
| 15 | 16 |